Train-the-Trainer Program and Consulting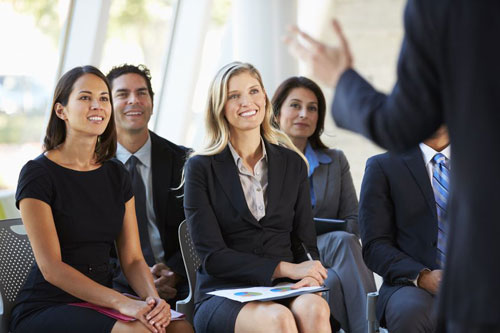 Elevate your educators to the next level
The profile of those individuals who provide training for employees has changed over the years. In today's fast-paced business world, more and more management-level employees are providing hands-on training to internal staff and clients.
Think about the people who provide your training:
Have they received any formal training on adult education?

How much experience do they have in coaching participants to ensure retention of information?

Are they able to deliver information in the most dynamic way possible?
The Communication360 Train-the-Trainer Program allows you to invest in those employees who are your educators, internally and externally, and to provide them with the resources, tools, and support they need to be even more effective professional communicators than they are today.
Our expertise can help put a fresh perspective on delivering content and a renewed, dynamic approach to facilitation. The program also allows trainers to integrate their own delivery style with an innovative, interactive teaching approach that can be used when educating a variety of audiences, both internally and externally.
Explore our programs
Tailor the program to meet your specific needs:


Private one-on-one sessions

Semi-private sessions (up to 4 participants)

Small/Large Group Train-the-Trainer Workshops
Further customize the program by including program design and development, mastering of content, and our unique Communication360 Coaching and Delivery Certification Program.
"I was afraid at first that I would feel horrible when "critiqued". I was not at all! It was not about criticism but coaching and helping me to develop. I am thrilled and excited about practicing these new skills! Joan was coach and supporter. She took what I had and made it better, while adding some layers of skills. I will use the skill set to conduct more engaging webinars and to help me to use fewer words in every instruction I will deliver. This training on speaker development was the first since 1973! Yay!"
"This program was valuable, organized tools for both improving my presentation skills and being able to better focus my coaching of colleagues. Joan modeled effective coaching and taught the skills and organization. I will use the skills provided in virtually all of my class time as well as with one-to-one interpersonal conversation. This was a great 4 hour class!"
"This session with Joan focused on hand gestures, posture, inflection, eye contact, fillers. I will use these skills in future meetings, presentations, metro connections. Compared to previous workshops I have attended, this was excellent – great focused time!"
Are you ready to start a conversation?